What is glass?
Glass is a kind of artificially manufactured material, which is different from man-made plastic and metal materials. Glass and ceramics are similar, both belong to inorganic non-metallic materials, and both have varying degrees of brittleness. But ceramics is crystalline, while glass is amorphous, that is, the various ions in it are not arranged in a regular and orderly microscopic view. Due to the amorphous structure of glass, glass is easier to melt than ceramics, has a higher coefficient of thermal expansion, lower fracture toughness, and so on. In order to improve the strength and toughness of glass and make it not easy to crack or break, it is often necessary to add a ceramic phase with good rigidity and high strength to make glass matrix composites with good mechanical properties. Another method of strengthening and toughening glass is to introduce a ceramic phase nucleating agent into the glass, and through appropriate heat treatment, form glass-ceramics, also called glass ceramics. The ceramic phase (particles) in glass matrix composites is added externally, while the ceramic phase in glass ceramics is produced by in-situ crystallization from the glass matrix.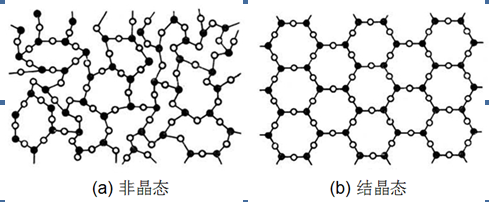 Schematic diagram of the two-dimensional arrangement of ions in different crystalline SiO2 (circles represent O2-; sunspots represent Si4+)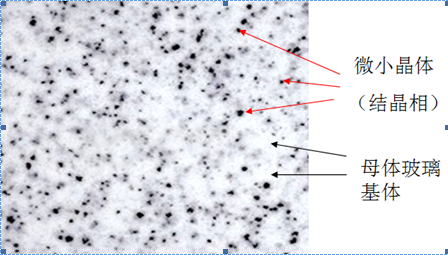 Electron micrograph of a glass-ceramic
What is sealing glass?
Different parts composed of different materials or the same material can be connected by organic adhesives or metal solders to form an integral component. The heat resistance of the organic binder is not good enough, and the metal solder has no electrical insulation function. Sealing glass is an inorganic binder that can realize the interconnection between ceramic-ceramic, metal-metal, and ceramic-metal. In addition to the connection function, the sealing glass also requires gas barrier function (air tightness) and electrical insulation between the connected parts. Glass seals must also withstand harsh environments and require resistance to thermal shock and mechanical damage. It can be seen that the sealing glass is different from the common window glass and daily glass, but a new special glass material developed with the advancement of modern technology. According to the sealing temperature, sealing glass can be divided into high, medium and low temperature sealing glass, the latter is also called low melting point sealing glass. The sealing glass can be divided into iron sealing glass, molybdenum sealing glass, titanium sealing glass, etc. according to the sealing material and its thermal expansion coefficient. According to the state of use of the sealing glass before sealing, the sealing glass has several forms, such as powder, beads (insulators or preforms), and paste.

Several forms of sealing glass materials